Please click the map below to view the Fact Sheets for each county.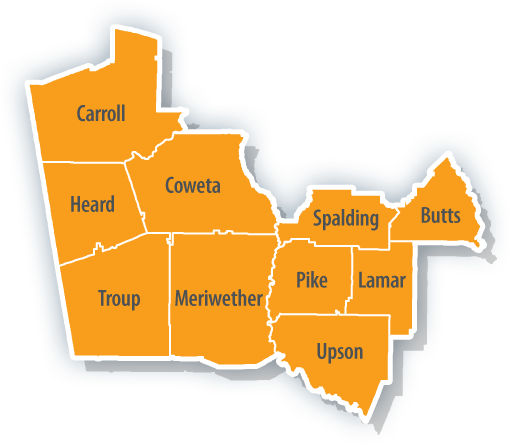 Three Rivers Regional Commission
is a 10-county regional planning commission that includes the West Central Georgia area counties of Butts, Carroll, Coweta, Heard, Lamar, Meriwether, Pike, Spalding, Troup and Upson. Each of these counties in the West Central Georgia region benefit from the services provided by Three Rivers Regional Commission which include aging services, workforce development, transportation and local/regional planning.
As a regional planning commission, Three Rivers Regional Commission (TRRC) works with local governments, click the links and learn more:
What is TRRC?
Three Rivers Regional Commission was created as a regional planning organization and is managed by its member governments in accordance with Georgia law. We work to create, promote, and provide services and technical assistance to make the local communities in the region better places to live and work.
Member governments include the following counties and the municipalities within the counties: